hazardous goods storage
armorgard

Drumbank
View Video
The COSHH compliant Armorgard DrumBank range is specially designed to safely store a range of containers, such as 50 gallon drums, jerry cans, & IBC containers. Highly robust, the enclosed versions are fitted with heavy-duty doors and 5-lever deadlocks to protect your high value fuel and oil from theft and fire. The DrumBank range is fully compliant with COSHH regulations, as well as including benefits like durable powder coating and easily accessible, fully welded sumps.
ticks the box for...
enclosed storage and spill pallets for various containers
COSHH compliant storage
30 minutes fire resistance
choose a model
features & specifications
Built to specification for 30 minutes fire resistant
Strong gas struts fitted as standard - conforms to industry standards
Powder coated for maximum durability
Heavy-duty door with 5-lever deadlocks
Meets relevant regulation for storing fuel or chemicals
Fork skids for easy transportation
Raised removable open floor grating
Fully welded sump
accessories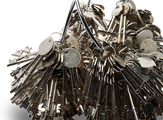 Replacement Keys
Replacement Deadlocks
reviews
Drumbank Reviews
DB4

Competitive Pricing compared with alternatives. Could be slightly wider to make it easier to load drums into.