hazardous goods storage
armorgard

Flamstor cabinet
View Video
The Armorgard FlamStor™ - secure storage cabinet that keeps your hazardous substances safe, organised and accessible with the specially designed flameproof vents to prevent build-up of fumes. Supplied with adjustable shelves and heavy-duty 5 lever deadlocks (except FSC5), this robust cabinet comes complete with warning stickers and complies with all relevant COSHH regulations, ensuring that your hazardous substances are kept safe, accessible and secure.
ticks the box for...
keeps you hazardous substances safe, organised and accessible
robust cabinet
30 minute fire resistance.
choose a model
features & specifications
Built to specification for 1/2 hour fire resistant
Finished in bright red with relevant hazard warning signs fitted as standard
Keyed alike 5-lever deadlocks both sides, with heavy-duty chubb-style keys and welded security ID numbers (except FSC5)
Suitable for chemicals or flammables
Fully adjustable shelves with all sizes of cabinet
High & low level ventilation to prevent build-up of fumes
Fork skids with fixing slots for easily adding castors
Powder coated for maximum durability
Flame arrester gauze fitted on all ventilation
Fully welded and tested sump base to prevent leakage
Optional facility to add castors using the pre-drilled holes
accessories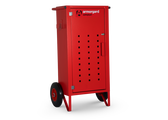 Safetykart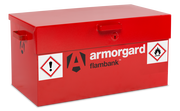 Flambank
Replacement Deadlocks

Safestor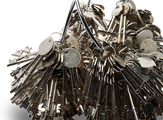 Replacement Keys
Chembank
reviews
Flamstor cabinet Reviews
Best fit for requirements

It is the product that best fits my requirement, the space I need, and have available.

Best

Best on the market.