hazardous goods storage
armorgard

Flambank
View Video
The ultra-tough, lockable vault for storing hazardous chemicals and flammables. As well as exposing individuals to possible risk, failure to comply with with regulations relating to the Control of Substances Hazardous to Health (COSHH) is an offence under the Health and Safety at Work Act 1974. Built to the same high specification as our renowned TuffBank™ Armorgard FlamBank™ is specially designed to comply with all relevant COSHH regulations, ensuring that your hazardous substances are securely protected 24/7. Available in 7 sizes, the FlamBank™ is ideal for use on construction sites, in factories and vehicles.
ticks the box for...
lockable vault for storing hazardous chemicals and flammables
comply with all COSHH regulations
ideal for use on construction sites.
choose a model
features & specifications
Keyed alike 5-lever deadlocks both sides, with heavy-duty chubb-style keys, welded security ID numbers and 6mm reinforcement around the lock
Built to specification for 1/2 hour fire resistant
Strong gas struts and safety catch fitted as standard- conform to industry standards
Suitable for chemicals or flammables
Finished in bright red with relevant hazard warning signs fitted as standard
Supplied complete with internal shelf (only FBC2, FBC4, FBC5 and FBC8)
Fully welded and tested sump base to prevent leakage
High & low level ventilation to prevent build-up of fumes
Flame arrester gauze fitted on all ventilation
Robust steel plate construction and powder coated for maximum durability
Fork skids with fixing slots for easily adding castors (except FB1)
Optional facility to add castors using the pre-drilled holes
accessories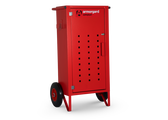 Safetykart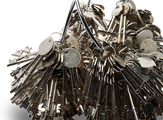 Replacement Keys

Flamstor cabinet
Replacement Deadlocks

Transbank

Transbank chem
reviews
Flambank Reviews
Best standard

Best standard.

Used them before

Whole company use them throughout business.

Flambank

The product seemed to be the best fit and most cost effective to meet requirements

Solid boxes

Solid well made site boxes, used hire variant in the past.

2 shelves as a standard

Had Armorgard in the past, would be great if 2 shelves came as a standard.

Well made product

Looked a very well made product and lady I called at Armorgard was very informative and helpful. Having said that, 2 shelves as standard instead of 1 would make it look a little less minimalist for what is a quality product.

Fuel storage

Fitted all the fuel we needed to store. Having the second shelf would have been useful but this is a issue which does not detract from the product.

Good product

Good products, that are well made.

Tried & tested

Tried and tested, good quality product.

FBC8

I have two other FLAMBANK's on site and I am pleased with the product.

Well known brand

Sturdy, well constructed, well known brand.