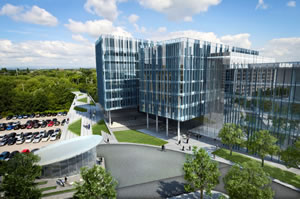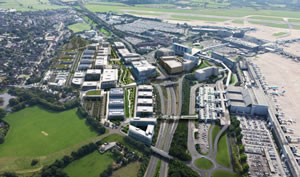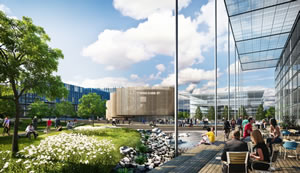 Construction has recently started on the £650 million Airport City development, in Manchester, a 10 to 15 year construction project, designed to completely transform the area around Manchester Airport.
Global air travel is changing, with people wanting airports to be destinations, rather than just a gateway to travel; they are becoming more of an economic hub where people work, live and play, globally known as 'Airport Cities'. Manchester is the only regional airport in the UK which has the existing potential to develop into an Airport City, with the unique combination of location, land, connectivity and infrastructure.
The new Airport City in Manchester will serve global markets and become an international business destination and transport hub, where businesses from around the world can come together to share knowledge and do business. The Airport City will be constructed in different stages over the next 15 years, costing a total of £650 million. Once completed, Airport City will provide;
1.4 million square feet of logistics and warehousing
1.5 million square feet of offices
650,000 square feet of advanced manufacturing
Approximately 2,400 hotel beds
100,000 square feet of ancillary retail
13 acre recreation park
The Airport City is going to be a life changing environment for Manchester, creating 11,400 new permanent jobs, giving a real boost to the local and national economy.
Carillion have won the bid to develop the Airport City project, and there lies some huge opportunities for hire companies and contractor suppliers to gain business from this internationally focused project.