Recent reports have revealed that rural crime in England reached an eight-year high, including a spike during lockdown. This 9% rise was partially driven by "organised gangs" targeting expensive vehicles and equipment.
The three counties worst affected by the cost of rural crime were Lincolnshire (£2.8 million), Essex (£2.7 million) and North Yorkshire (£2.2 million).
Patrick Govier, NFU Mutual Agent in Hampshire, said: "There are fears that the impact will be felt harder this year as farmers have been working flat-out to feed the nation and many rural communities have been put under additional pressure by the challenges brought by COVID-19."
Ensure that your equipment is kept as secured as possible in vehicles and on site, with some of the strongest solutions on the market. We've picked just 4 of our built to last, ultra secure storage solutions for the agricultural market:
Our best-selling tool and equipment storage solution, perfect for vehicles, workshops or sites.
Sold Secure and Secured by Design accreditation: Our TuffBanks adhere to rigorous test standards required by the police
Unique internal anti-jemmy system to help prevent the lid from being forced open
Available in 8 different sizes
A flat-packed, quick-assembly, modular solution for secure storage on a larger scale.
Can be built from it's flat-packed form in under 6 minutes! Can be delivered pre-erected.
Heavy-duty doors with 5-lever deadlocks and jemmy-proof joins
COSHH range available for if you are storing hazardous substances
Available in 4 sizes
(Pictured: the Forma-Stor COSHH for hazardous goods storage)
The unique upright storage system for securing your strimmers and other long handled equipment.
Highly secure unit with twin 5-lever deadlocks and a hinged heavy-duty welded lid
Provision for bolting to a wall to maximise security
Can be used to secure up to 5 strimmers or for hedge cutters, leaf blowers, chainsaws, etc.
The ultra-tough secure vault for storing strimmers and other long handled tools.
Fits 1 or 2 strimmers, perfect for vehicles or workshops
Ultra-tough, anti-force construction
Available in 3 sizes
​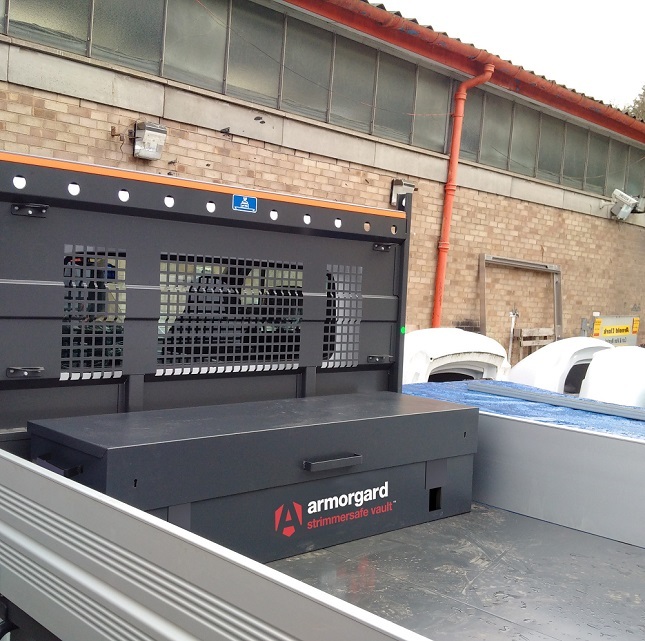 It was warned that figures this year would be affected by the coronavirus crisis, which has sparked an increase in rural crime.
We're on a mission to help tackle crimes like this, with our in-house R&D team constantly working to innovate our products to ensure that your equipment is stored in some of the toughest solutions on the market.
Explore our range here: https://www.armorgard.co.uk/markets/agriculture