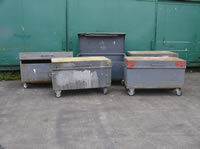 Armorgard have now set up a dedicated repair workshop which specialises in maintaining and refurbishing site storage equipment.
Particularly used by the hire industry, perhaps the most arduous of industries, this service solves the problem of having damaged site boxes in the yard unable to earn revenue.
The good news is that not only do we repair our own tool vaults, but our experienced engineers have developed a system to repair most other makes, including Sentribox, VanVault, Site Safe, Porta Stor and Toolboxes Direct. We also weld a new serial number to every box we repair, enabling replacement keys to be purchased in the future.
Speedy Hire have recently taken advantage of this facility, enabling them to return many damaged tool storage vaults back into good working order for use on the London 2012 Olympics site in Stratford.