It's here. It's our latest innovation and you're already loving it! The patent pending design of Armorgard ScrubKart is the instant warm water hand washing solution, purpose built for construction sites.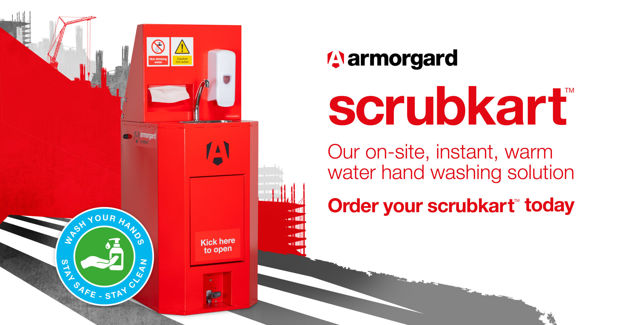 The ScrubKart is available with heated water at 110v or 240v power, safely on construction sites. No plumbing needed! The ScrubKart is tank-fed and there are 2 x 25L capacity tanks for the storage of both freshwater and self-contained waste - which allows up to 120 hand washes, minimising the need of having to replace tanks frequently.
Constructed from robust, heavy-duty steel, the ScrubKart is built for purpose and built to last on construction sites. The 350mm solid rubber tyres can take on rougher terrains and make the kart easily mobile, so that it can be placed at focal points around the site.​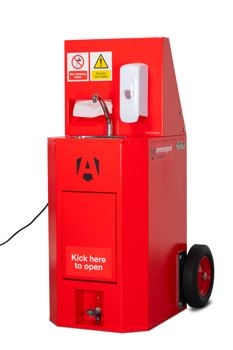 This is a product that was built for purpose, so it does not lack any of the features required to help stay safe and clean on site. The ScrubKart has a durable, wipe-clean and weather resistant surface. It even features a foot pump operated stainless steel sink and tap and a hands-free swing bin, meaning that contact and transmission of germs through hands is minimised at every opportunity possible.
Keep construction workers safe with the mobile, built to last, warm water hand washing facility: Armorgard ScrubKart.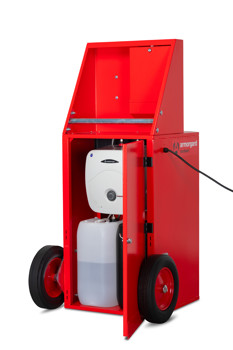 Comes as standard:
1 x soap dispenser
1 x paper towel dispenser
Stainless steel sink and tap
2 x 25L tanks (colour coded for clean and waste water)
1 x hands-free swing bin
Relevant signage
Water heater included for SBK1T and SBK2T​​
Patent pending - application number - 2006552.0
Armorgard is still open for business! If you're interested, call us on 023 9238 0280 or email [email protected]. We're also happy to video chat!