#FaceVisorsForHeroes is a project that's currently run by Concrete Carrot and a group of volunteers producing and donating thousands of face visors to key workers who are in need of personal protective equipment.
Armorgard donated an OxBox to this project, one of our secure storage boxes, to help with contact-free collection of the face visors, allowing the volunteers to continue their work and deliver the visors to our frontline key workers who need them.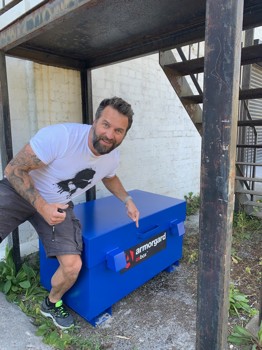 We caught up with Toby Hurst, director at Concrete Carrot to find out more about this commendable project.
What inspired this project?
Initially, when we went into lockdown and furloughed our staff, I noticed that a friend on Facebook was 3D printing face visors for NHS/Social Care staff. We have a 3D printer at work, so I brought it home and started printing visors. At first, I was producing 1 every hour and a quarter - it was a nice little project but it was frustratingly slow.
In our workshop, we have a CNC machine. After spending a day or so adapting the design, I was able to produce 100 an hour which was quite exciting! In the meantime, through the power of social media, we had plenty of materials donated to us to get us properly up and running!
Tell us a little more about Face Visors For Heroes.
Myself and my employees are all involved in Face Visors For Heroes. They are currently on furlough leave, so they are kindly volunteering to help with the cause.
There are approximately 15 of us at present who are both packaging and delivering the visors. We have produced approximately 3,000 face visors so far and have had visor requests from local hospital wards, care homes, pharmacies, GP surgeries and even an airport.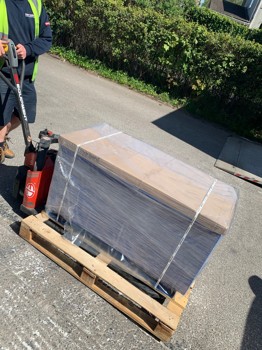 How has the project changed since you got the OxBox?
From the moment I started getting more people involved, it was a key point for me that there was as little contact as possible between team members.
It was easy for us to manufacture them and package them in isolation, but delivery posed an issue. Anyone wanting to help out would have had to physically pick them up from our workplace by arranging to be there or wait around so that the visor packs could be handed over.
With the Armorgard OxBox and a combination padlock (which gets wiped regularly!), we've been able to secure the visor packs, message the delivery volunteer to pick up with as little human contact as possible and at their convenience!
Has the OxBox been working well for this project?
Yes! Definitely!
We are thrilled to have been able to help take this project further and ensure that the volunteers are keeping safe and socially distanced.
It's a difficult time for all of us, but it is heart-warming to hear selfless stories and truly brilliant acts of kindness from one another. We would like to thank Toby Hurst and the Concrete Carrot team for their amazing work, as well as the essential key workers who are keeping the country running.
It's been an honour to be able to support the work done by Face Visors For Heroes.
#FaceVisorsForHeroes
Facebook Group – Face Visors For Heroes https://bit.ly/3ejXAI3
Just Giving Page – https://bit.ly/2Ryqp9M
Facebook Fundraiser Page – https://bit.ly/2xpJsfB

The Armorgard OxBox - https://www.armorgard.co.uk/prod/oxbox