Armorgard today introduced the all-new InstaGate, a multi-purpose, eye-catching modular crowd control barrier, which comes equipped with a unique latching system that makes it incredibly easy and remarkably quick to deploy in virtually any situation.
The UK's leading site safety and security products manufacturer says it is responding to increasing market demands with InstaGate readily available in volume for distributors who want to sell the item on a next day delivery basis or for hire companies who want to buy in bulk to keep plenty in stock.
"We are very excited to release this new product that will enable Armorgard to provide customers with the next generation of crowd control barrier," said Armorgard Managing Director Terry Mitchell. "Our customers want a product that is quick to order and quick to deploy. InstaGate ticks both boxes."
Made from strong, lightweight aluminium, the Armorgard mobile barrier is designed for easy movement and secure placement. With its braked wheels and a unique latching system, InstaGate can extend to any length and be opened and fixed single-handedly. Once expanded and braked, InstaGate forms a highly visible red and white barrier. Multiple units can be easily locked together.
"Armorgard has always believed quality product innovations can truly enhance everyday life, and this commitment has helped us reinvent the standard crowd control barrier," said Terry Mitchell. "Similarly, we believe customers should expect more from new products in terms of user experience. The InstaGate crowd control barrier delivers on this notion."
InstaGate, which is available in 4ft and 6ft heights, can be used with standard scaffold claps for fixing to scaffold or to turn corners. Armorgard say the product is durable, weather proof, designed for low wind resistance and very user friendly.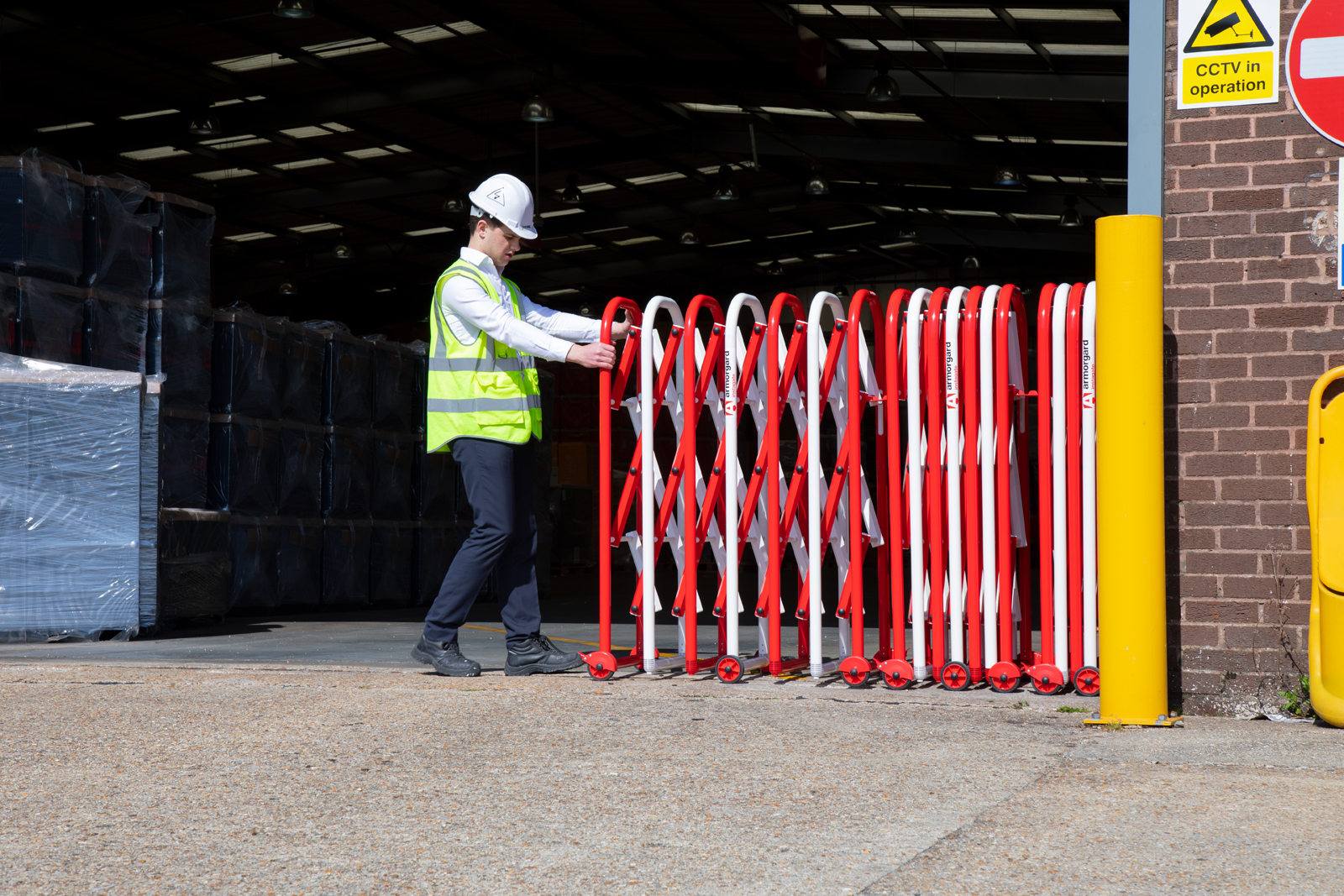 "Making life easier for those who use our products is at the core of our design thinking, and we are proud to use the full strength of our R&D capability to set a new standard in crowd control barriers," said Armorgard's Head of Product Development Matt Partridge "When we began this project, we started with a blank sheet and asked ourselves 'what does the customer truly need in a barrier?' Our new system answers this question through an ergonomic design that offers the utmost in functionality, durability and security."