As you experience a new normality we want to make sure that you have all the products you need to stay safe when on site! Like many we have been supporting the evolving situation, these products were born from the COVID-19 pandemic, but have now become on-site favourites.
Forma-Shelta:
In need of a segregated area for your workers to rest whilst on site?
Armorgard Forma-Shelta is the product for you. Its unique assembly means that it can be constructed anywhere it's needed in as little as 10 minutes, providing a safe and dedicated area for workers.The Forma-Shelta is also equipped with a fold down bench, ash tray and anti-slip flooring suitable for all weather types.
Especially good for when the weather warms up, no inside office space needed, set up and take a seat.
SaniStation S40:
The SaniStation S40 is an on site essential, acting as a central hand sanitising and safety notice board, comes as standard with relevant signage, but can also be customised and used as a first aid or fire point. You can even use it as a barrier to segregate crowds of people, as dual sided use is available. Also armed with four heavy duty castors to easily manoeuvre around site.
Why not add in the optional extra secure cabinet, to store spare sanitiser and PPE, to make sure you never run out!

Sanistation Mini:
Meet our SaniStation, let it be the first thing you see when you come through the door. Perfect for busy public areas as it can be easily fixed to the floor using its anti theft system.
A small but mighty sanitising unit, dispensing up to 2,500 pumps of sanitiser! The extra secure built in unit for the storage of another bottle means you can stay stocked up! Combat germs with its hands free foot pump, ensuring the safety of your workers.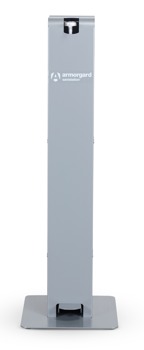 SpeedSpray:
Fight large surface areas of germs using the SpeedSpray, supplying up to one hour of continuous sanitising spray.
This low maintenance, high productivity standalone unit is ready for immediate use! Kitted out with four heavy duty castors allows you to move it whenever and wherever with ease. The spray gun has been ergonomically designed to minimise wrist and hand fatigue - so you'll never get tired of spraying.
Once the day is done spray down your work area and have peace of mind that it is clean and safe.
ScrubKart:
Take sanitising to the next level with our ScrubKart, providing instant warm water hand washing on wheels so that you can stay clean wherever you are on site.
Fueled using tank fed water there's no need to plug in, waste water is also self contained so you can be sure of no cross contamination. The foot operated tap and paper towel kick bin ensures no germs are spread whilst cleaning.
The ScrubKart is robust with solid rubber tyres and a heavy duty steel construction, it is built to last and will see you through.